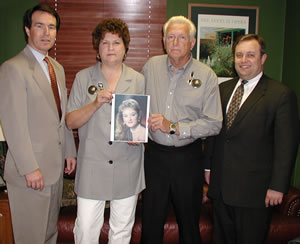 Rep. Fred Morgan, John and Betty LeGrange holding a photo of their daughter, Kristie and Sen. Glenn Coffee
The House of Representatives has given its final approval to a measure to ensure photographs of a murder victim when they were still alive will be admissible during a trial. The measure, co-authored by Representative Fred Morgan and Senator Glenn Coffee is now ready for Governor Frank Keating's signature.
The legislation is named for Kristie LeGrange, a twenty-six year old Home Based Family Therapist who was brutally murdered by one of her clients.
"The family of Kristie LeGrange, like so many other victims' families, has suffered unspeakable pain. They simply wanted the jury to see Kristie as the vibrant and intelligent young woman she was in life. Their diligence has insured that victims of the most heinous crime are afforded the same right guaranteed to every other victim; presence in the courtroom," explained Representative Morgan, R-OKC.
But the problem is judges are often reluctant to admit such photos for fear that defense attorneys could argue such pictures unfairly prejudiced the jury.
"For years we've been fighting to change laws that seem to give all the advantages, breaks and rights to the accused, while the rights of the victims or their friends and loved ones were very few by comparison. Not allowing live photos of murder victims is just one more example of that. But that will change with House Bill 2216," said Senator Coffee, R-OKC. "We think it is important for juries to have a more balanced view of the life that was senselessly taken away. Allowing these photos is one way to do that."
Although the measure was passed too late for the trial of Kristie's accused murderer, her family was very glad to know that other homicide survivors may soon have more rights during future trials.
"The pain our family has been through is hard to put into words. But if we have been able to help correct some of the injustices in the system that give more rights to the accused than the victims, then that is something we can take comfort in," said Betty LeGrange, Kristie's mother.
HB 2216 now goes to Governor Frank Keating for his signature.
Contact info
Senate Communications Division - (405) 521-5605