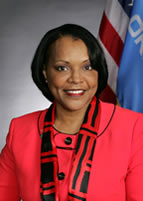 Sen. Constance N. Johnson
Sen. Constance N. Johnson on Tuesday praised the Senate's recent approval of a resolution urging the review of questionable arson convictions. Authored by Johnson, Senate Resolution 99 also supports judicial review and the official adoption of the National Fire Protection Association (NFPA) 921 publication as the standard of care for fire investigation.
"The tragedy of wrongful conviction affects us all – it condemns innocent lives and leaves the guilty unpunished," said Johnson, D-Oklahoma County. "As a legislative body, we must do everything in our power to prevent the possibility of wrongful conviction. This approach must also extend to our procedures for investigating fires, as many previously accepted methods have proven unreliable and resulted in the imprisonment of innocent persons."
Johnson said she was motivated to file the measure after national fire experts called into question the investigation that led to the murder conviction and execution of Cameron Todd Willingham in Texas. According to the investigative report requested by the Texas Forensic Science Commission, the original claims of arson were not sustainable. Johnson said future instances of wrongful conviction would be less likely with the adoption of modern, uniform standards of care for fire investigation.
"The state Legislature must be more interested in preserving justice and fairness than preserving an image of infallibility in the criminal justice system," Johnson said. "I'm urging that government attorneys and fire investigators review questionable arson convictions so our state can avoid the tragedy and embarrassment of cases such as Willingham's. Additionally, we urge that the judicial branch and relevant law enforcement agencies employ NFPA 921 when conducting fire investigations."
Senate Resoultion 99 was approved unanimously by the state Senate last week.
Contact info
Sen. Johnson: 405-521-5531