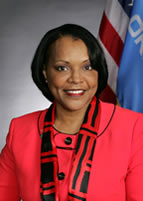 Sen. Constance N. Johnson
Sen. Constance N. Johnson is encouraging her legislative colleagues to consider legislation that would establish alternative placement programs for non-violent offenders in Oklahoma. Johnson said alternative placement could ultimately reduce some of the state's funding obligations to the Department of Corrections.
Johnson has filed Senate Bill 2329, making persons convicted of non-violent and drug-related crimes eligible for the Non Violent Offender Alternative Placement program.
"With prison populations increasing and our correctional facilities crumbling, it's time for us to be smarter with the money we spend on corrections," said Johnson, D-Oklahoma County. "We could convert the savings to rehabilitative efforts that can keep people out of the prison system and provide them with the opportunity to live better, more productive lives. In a state where we pay a high price for our high incarceration rates, it's a proposal that deserves to be heard."
Johnson noted that of the approximately 26,000 inmates now housed in DOC facilities, 4,759 are imprisoned for non-violent offenses not related to drugs. An additional 7,846 are imprisoned for non-violent drug offenses without any violent concurrent sentences. Johnson estimates that nearly 5,000 non-violent offenders would be eligible for alternative placement under her proposal. If adopted, Johnson's plan represents a potential savings of $125 Million, which could then be used on other vital state programs that are crumbling under the current budget crisis.
"Reducing our prison population would give us the opportunity to convert both public and private prison bed space to long-term rehabilitation facilities," Johnson said. "Ultimately, my hope is that the proposal will receive a fair hearing, and that we can have an open dialogue on criminal justice reform. It's clear that the current approach isn't working, and it's time to consider cost-saving alternatives."
Johnson has invited Senate and House members to convene with her in a dialogue on criminal justice reform with an eye toward forming a criminal justice reform caucus in the Legislature.
"There are many voices that have yet to be heard on the issue of saving money through a different approach to criminal justice," Johnson stated.
Students and other advocates from around the state will converged on the Capitol on Wednesday to urge leaders to hear the bills. The criminal justice reform dialog will be held Thursday at 12 Noon in Room #534A.


Contact info
Sen. Johnson: 405-521-5531