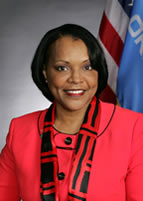 Sen. Constance N. Johnson
Sen. Constance N. Johnson in December announced her intentions regarding a four year strategy to repeal Oklahoma's death penalty. On Thursday, Johnson said the plan involves initially highlighting the economic and ethical concerns that make capital punishment an ineffective deterrent and a drain on state resources, and in the interim conducting education and awareness raising activities across the state to undo many commonly held misperceptions and much misinformation about the death penalty in our state.
Johnson is beginning this effort this session with the filing of SB 2208, a bill establishing the Oklahoma Commission on Wrongful Conviction. The Commission would be charged with reviewing wrongful convictions, identifying potential weaknesses in the justice system and proposing remedies to strengthen the quality of justice in Oklahoma. Johnson noted that among the nine Americans exonerated from death row in 2009, two were Oklahomans – Yancy Douglas and Paris Powell. With these latest exonerations, Oklahoma has now had a total of 10 exonerations in the last 10 years.
"In collaboration with the Oklahoma Coalition to Abolish The Death Penalty, we will highlight information regarding the ineffectiveness of the death penalty as a deterrent to capital crime—a view held by numerous law enforcement chiefs across this state—its high cost (three times the cost of a life without parole sentence) to our state, and the extraordinary risks associated with execution under our system of justice," said Johnson, D-Oklahoma County. "At a time when scarce resources and an ongoing budget crisis have forced substantial cutbacks in services and state employee furloughs, we feel it is important to invest our state's resources in
programs that produce positive results. Last year, with the revelations regarding the death of Bicycle Bob in Edmond, we were actually faced with three more heartbreaking examples of our justice system's fallibility, which further illustrates that the risks and costs associated with the death penalty do not justify the investment."
Johnson noted that the death penalty is disproportionately applied to the poor, and that a number of systemic causes of wrongful convictions persist in our justice system.
"The fact that a death penalty sentence can stem from a single eye witness testimony, a single forensic lab's results, or an unrecorded confession has undoubtedly led to the conviction of innocent people," Johnson said. "The quality of legal representation available to poor defendants may be an even greater problem, as overworked and underpaid public defenders are at a tremendous disadvantage in capital cases. Through this legislation, our hope is to minimize the number of wrongful convictions in Oklahoma, bolster the public's confidence in the integrity of our justice system, and ensure that the administration of justice in our state is fair, accurate, and reliable.
Johnson shared that during a recent symposium she sponsored on criminal justice reform, the consensus of those present and that has since been expressed by many who support the death penalty is that no one supports the killing of anyone who has been wrongfully convicted.


Contact info
Sen. Johnson: 405-521-5531