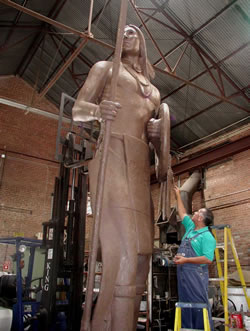 Senator Kelly Haney adds final touches to his sculpture "The Guardian".
OKLAHOMA CITY - Senator Kelly Haney said work on the 17-foot bronze statue "The Guardian" is going so well the project will likely be completed ahead of schedule. This week the clay version, which Haney has been working on in sections, was assembled for the first time. The clay version will be used to create a mold for the bronze statue, which will be placed on top of the state capitol dome upon its completion next year. The statue, which will weigh an estimated five thousand pounds, is being cast at the Crucible Foundry in Norman.
"This is the first time I've sculpted a piece on this scale, but I have to say so far it is going extremely well. We'd planned on having the final version ready by October of 2002, but at this rate we could be finished much sooner," said Haney.
Haney's statue was selected in a blind judging last fall. While a young man of Choctaw descent posed for the statue, Haney says he is using his children as he works on the details of the statue, such as the facial features.
Oklahoma Arts Council Executive Director Betty Price was on hand to see the full-scale clay version assembled for the first time.
"I have to say it is stunning, and it's amazing to see this full-scale version. It truly is a beautiful sculpture that everyone in the state should be proud of," said Price.
Senator Haney has declined the $50,000 fee for his work, saying this was his gift to the state.
Contact info
Senate Communications Division - (405) 521-5605