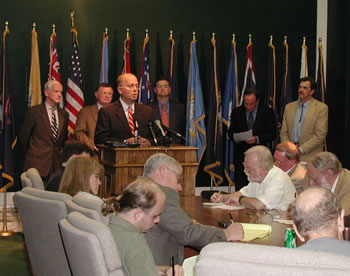 Senator Stratton Taylor announces tax cuts and budget agreements at a State Capitol news conference.
(Oklahoma City) Legislative leaders and Governor Keating have reached a bipartisan budget agreement that will deliver more funding to all three branches of education and other vital services, in addition to cutting income taxes for all Oklahomans, including working families at the bottom of the income ladder. After it is fully implemented, the tax relief initiative will return $46.3 million to citizens each year.
The Governor, House Speaker Larry E. Adair and Senate President Pro Tempore Stratton Taylor announced the budget agreement at a State Capitol news conference Monday.
"I'm pleased we have reached a budget agreement and I commend Pro Tempore Taylor, Speaker Adair, and Democrat and Republican legislative leaders for their efforts throughout this process. This agreement provides interim tax relief to the citizens of Oklahoma and that is an important statement that Oklahoma is serious about reducing our citizen's tax burden. However, I emphasize the tax reduction process is far from complete as we await a more complete overhaul of our tax system which will result in the abolishment of the personal income tax," said Gov. Keating.
"The Earned Income Tax Credit, a part of the House Democrats' 'Investing in Oklahomans' program, will provide needed tax relief to working families at the same time the income tax cut reduces rates for all Oklahomans. The budget agreement also includes an additional 109 million for education," said Speaker Adair (D-Stilwell).
"We tried to structure the budget package to benefit every Oklahoman, no matter what their level of income. We're cutting the tax load on working families and the middle class, and putting more resources into public school classrooms for their children. Given the budget hand we were dealt, I think we came up with the best possible package," said Senator Taylor
(D-Claremore).
Tax Cuts
Earned Income Tax Credit - Provides a $22.5 million income tax cut to low-income, working Oklahomans. Based on the federal EITC program, the Oklahoma version would provide a refundable state credit of 5 percent of the federal earned income tax credit. For example, for a family with two or more children earning approximately $10,000 to $13,000, the federal program provided a $3,888 refundable credit in tax year 2000. Under that scenario, the 5 percent Oklahoma EITC would have been $194. Working families earning less than approximately $32,000 a year and individuals earning less than approximately $10,000 are eligible for the federal and state EITC.
Income tax cut - Reduces the state's top income tax rate from 6.75% to 6.65%, ultimately delivering an annual tax cut of $23.8 million to Oklahoma taxpayers. The first year cost of implementation is $9.67 million.
Governor Keating and legislative leaders are still awaiting a report on the "Texas Plan." At their request, researchers at the University of Oklahoma and Oklahoma State University are drafting a tax reform program that would eliminate the state income tax and sales tax on groceries, among other things. Officials at OU and OSU hope to finish their work before the
Legislature adjourns on May 25th.
Budget Agreement
The agreement between Governor Keating and legislative leaders will allow lawmakers to complete their work on the $5.7 billion state budget. Most of the budget was written when legislators passed the "General Appropriations" bill in April, but several hundred million dollars must still be appropriated, including funds that were vetoed from the GA bill. The agreement also provides for an additional supplemental appropriation to the Department of Corrections to address its needs for the balance of the current fiscal year.
Totals are in addition to funds already appropriated in the GA bill:
Education -- $109 million (including $61.3 million for common education, $34 million for higher education and $5.3 million for career technology);


Health and Human Services -- $57 million (includes $12 million for Hillcrest Hospital in Tulsa);


General Government -- $5 million (includes $3.8 million for National Guard armory renovations);


Judiciary, Public Safety and Law Enforcement Services -- $20.8 million;


Natural Resources and Regulatory Services -- $4 million;


State Employee Compensation Package -- $36 million; and


Restored agency budgets vetoed in the GA bill -- $281.5 million.

Contact info
Senate Communications Division - (405) 521-5605