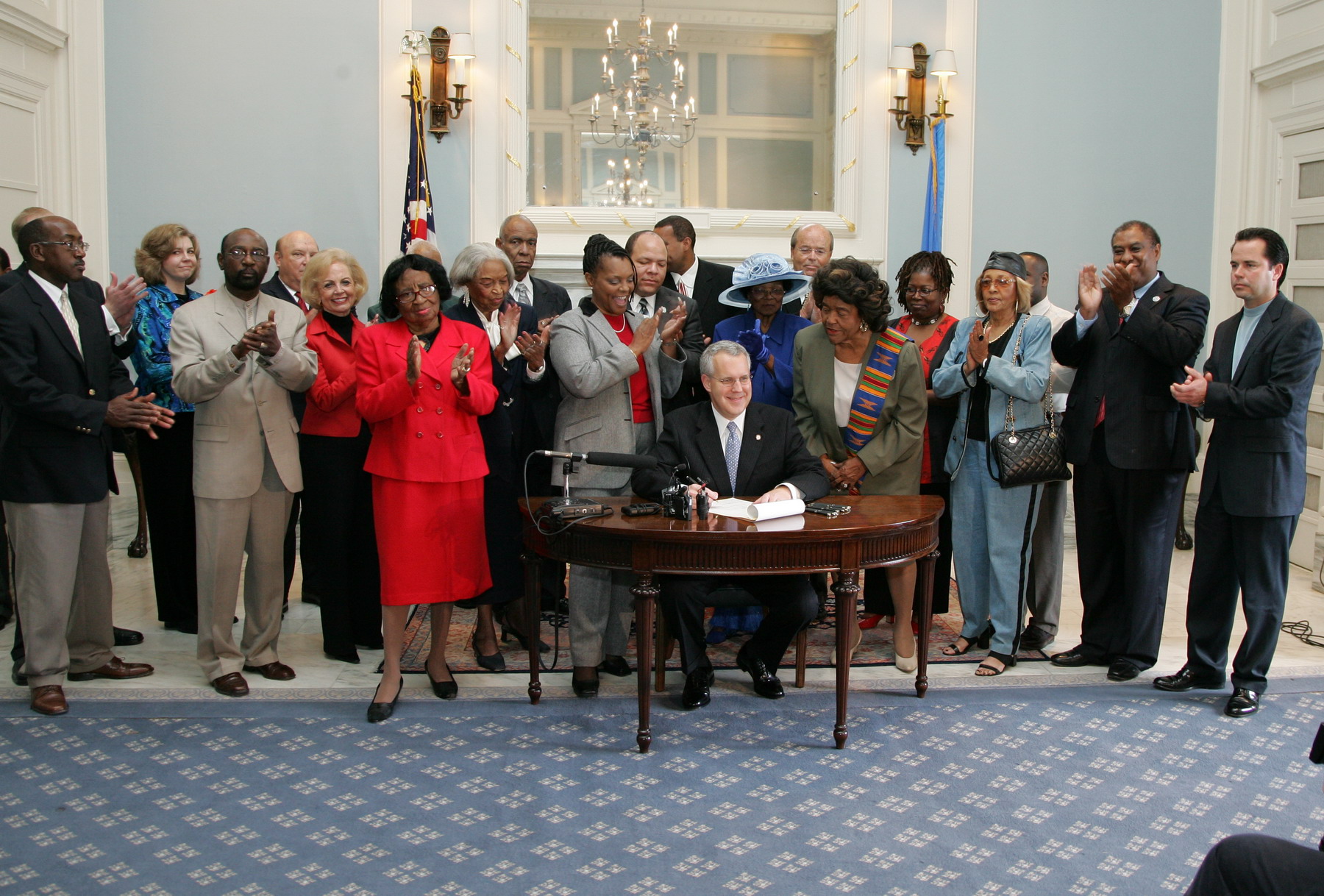 Governor Henry ceremoniously signs Senate Bill 1919 to create the African-American Centennial Plaza..
Gov. Brad Henry signed into law Thursday Senate Bill 1919 which authorizes creation of the African-American Centennial Plaza on the grounds of the State Capitol as part of Oklahoma's Centennial Celebration in 2007.

The governor was joined at the ceremonial signing by State Senator Constance N. Johnson, D-Oklahoma City, and Rep. Jabar Shumate, D-Tulsa, who co-authored the legislation.

"This is an historic day for Oklahoma and African-Americans and it's long overdue," Johnson said. "Rep. Shumate and I faced many hurdles in getting this legislation passed, but we were determined to see it through."

Gov. Henry added at the ceremony, "I think the African-American Centennial Plaza is an extremely important project for Oklahoma. It highlights a wonderful heritage and culture. I pledge to work as hard as I can to make this a reality."

Although SB1919 provided authorization for the creation of the plaza, it didn't provide funding for it.
Rep. Shumate said he and Johnson will work to secure state funding in the next legislative session for the plaza.

He added that a private fundraising campaign has been underway for some time, and is spearheaded by Clara Luper, a well-known Oklahoma civil rights leader, and Thelma Parks, an Oklahoma City school board member, who also attended the bill signing.

Johnson said fundraising should increase once the design committee makes its final recommendation.

"People want to have a visual picture of what they are donating to," Johnson said. "Once a final design is selected, I believe we will start seeing more donations come in for this very worthy project."

Shumate said it would take both legislative and community efforts to complete funding for the plaza.

"Legislation and funding for projects like this one don't happen in a nice, clean package," Shumate said. "It's going to take both public and private efforts. Today, we saw what it's going to take to see this Centennial Plaza become a reality.

"We brought so many of the groups together today that championed this idea," Shumate continued. "Senator Johnson and I are going to work hard to see that the Legislature does its part and we are going to have to have community support. Together we can do it."

The project's design is being overseen by the African-American Centennial Design Committee which will provide advice to the Oklahoma Department of Central Services in the design, construction, and funding sources of the project.

The committee is chaired by Johnson and includes members appointed by the Speaker of the House of Representatives, the Governor, Lieutenant Governor, Oklahoma Historical Society, Department of Central Services and the Oklahoma Arts Council.

Bruce Fisher of the Oklahoma Historical Society and a design committee member, said the committee will meet Nov. 15 at the State Capitol to hear from the two project design finalists. The finalists were selected from a design competition that was sponsored by an earlier steering committee.

A winning and an alternate design will ultimately be chosen and forwarded on to the executive director of Department of Central Services.

"Oklahoma is going to be on the cutting edge," Fisher said. "We are going to be only the second state in the United States to have this type of representation of African-Americans on the capitol grounds. It is something that we are going to be absolutely proud of. It will be something that other states will emulate. We wouldn't be where we are today without the efforts of Senator Johnson, Rep. Shumate and the entire community."

Themes for the plaza may include Oklahoma's African American military history such as black Civil War soldiers in Indian Territory; the founding and development of historically black towns like Boley and Langston, which houses Langston University; Tulsa's Black Wall Street, and Deep Deuce in Oklahoma City, which was the home of some of the most prominent African-American jazz musicians in the country.

"Oklahoma will take the lead among state capitol facilities as far as recognizing the thousands of contributions of the African-American community," said Currie

Ballard, former historian-in-residence at Langston University, and design committee vice-chair. "I'm very proud of this state for stepping up and looking forward. This is something that will stand the test of time."
Johnson said she looks forward to seeing the African-American Centennial Plaza completed.

"As Oklahoma celebrates its first 100 years, it will be fitting to have the African-American Centennial Plaza on the grounds of the state capitol as a lasting memorial and tribute to Oklahoma's rich African-American history," Johnson said.


Contact info
Senator Johnson's Office - (405) 521-5531