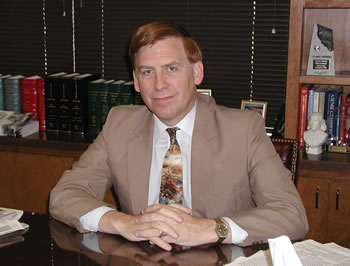 Senator Keith Leftwich principle author of SB 674.
Senator Keith Leftwich proudly announced the signing of SB 674 into law by Governor Frank Keating on Wednesday May 23rd.
The Democrat from South Oklahoma City authored the Compete with Canada Film Act to grab the attention of those in Hollywood to create more of their films in Oklahoma. The bill will provide a 15-percent cash-back incentive on money spent in the state for movie or television production.
"I am extremely pleased that SB 674 has been signed by the Governor," said Senator Leftwich. "This is a big step forward in promoting economic development in Oklahoma."
While on a trip to Canada, Senator Leftwich encountered two different film crews and noticed that Canadian provinces are capitalizing on their vast incentives.
"Oklahoma is a wonderful place to do business and the Compete With Canada Act will provide the means to encourage Hollywood producers to consider Oklahoma before any other state or province," said Senator Leftwich.
The Act offers production companies either a sales tax exemption or a 15 percent rebate of expenditures made in Oklahoma, such as local hires, props and wardrobe. The total rebates allowed could not exceed $2 million in a single year to one production company. The program will be administered by the Oklahoma Film Office, which will determine if a proposed project has a reasonable chance of economic success and will then qualify for the program.
"Oklahoma has many scenic locations as well as receptive citizens," said Senator Leftwich. "Canada has forever been capitalizing upon their scenery and it is time Oklahoma begin doing the same. This Act not only provide Oklahoma the means to compete with Canada, but with other states as well."
Leftwich's bill provides for three-times the incentive of any other state in the Nation.
"The Compete with Canada Act provides Oklahoma with an incentive plan that the film industry cannot ignore," said Senator Leftwich. "Film and television production is one of the wealthiest and highest profile industries in the United States and I am looking forward to bringing more of that industry into Oklahoma."
Contact info
Adrianne Covington, Media Assistant - (405) 530-2356