OKLAHOMA CITY – State Sen. Larry Boggs was presented with the 2018 Senator of the Year Award by the Oklahoma Veterans Council on Wednesday, March 27th in the House Chamber during a Joint Legislative Session.
Boggs, R-Wilburton, was recognized for his ongoing support of veterans, their families and their unique needs.  During his tenure in the Legislature, he has worked on several bills focused on helping veterans and supporting veteran issues.
"It is an honor to be presented with this award from the Oklahoma Veterans Council," Boggs said.  "Ensuring quality care and support for all of those who have selflessly served our nation is an issue that will always be near and dear to my heart.  It's important we take care of those who have given so much for our country."
There are several measures moving through the legislature this year to help veterans, including Senate Bill 310, which proposes expending the sales tax exemption for qualifying 100% disabled veterans and their surviving spouse.  Senate Bill 931 creates the Veterans' Volunteer Guardianship Act, which would allow courts to appoint a volunteer guardian for disabled veterans to ensure they are well taken care of.  Senate Bill 340 would increase the reimbursement amount that can be given to families of a deceased military veteran to help cover the costs of a burial or cremation.
            Boggs, a veteran himself, joined the United State Air Force in 1966 and served in Vietnam in 1967 and 1968 before he was discharged.  He later joined the Army Reserve Officers Training Corp (ROTC) in the flight program and was discharged again after the Vietnam War ended.   He has served in the State Senate since 2012 and currently serves as the Vice-Chair of the Senate Veterans and Military Affairs Committee.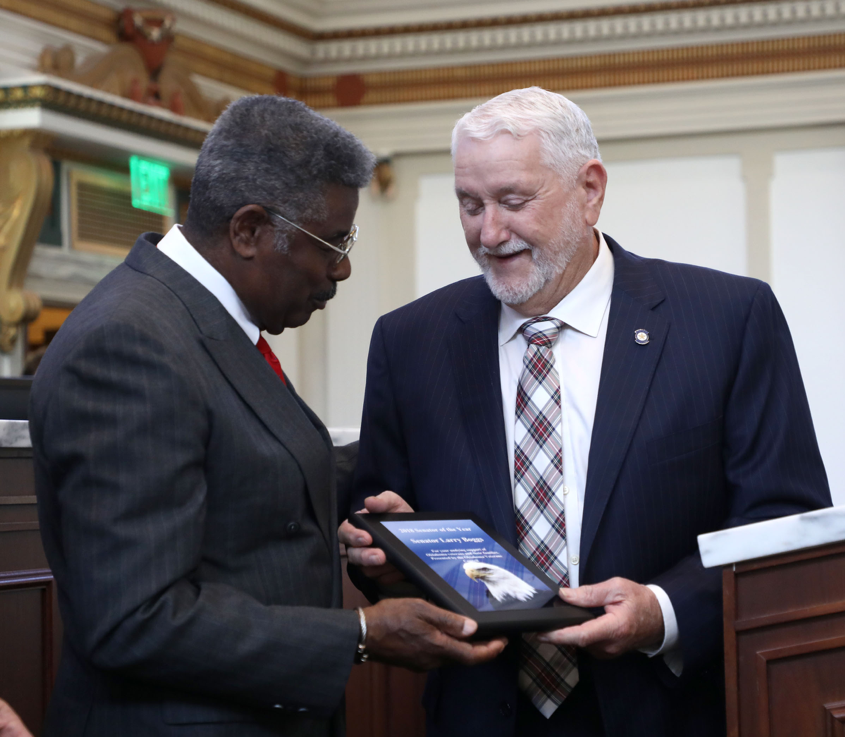 Sen. Larry Boggs, R-Wilburton (right) was presented with the Senator of the Year Award by the Oklahoma Veterans Council on Wednesday, March 27 at the State Capitol.  Giving the award is Mr. Pete Peterson, President of the Oklahoma Veterans Council.