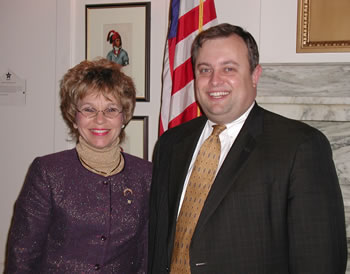 Senator Kathleen Wilcoxson and Senator Glenn Coffee
Legislation aimed at making sure teachers or other school employees who have abused children cant cover up their past behavior when looking for a new job has cleared the full Senate. An amendment to Senate Bill 1471 also requires public schools to have a moment of silence each day during which time a child may pray or meditate.
Senator Kathleen Wilcoxson is principal author of SB 1471. She said the main purpose of her initial legislation was to make school districts arent withholding critical information about a teacher who had been involved in child pornography or child abuse.
People have been outraged by reports of churches covering up a ministers history of child abuse just to avoid scandal. Often those ministers were simply transferred to another church without a single word of warning about their background, explained Wilcoxson, R-OKC. The shocking truth is there are school districts that have done the same thing. Unbelievably there are a few districts which have been more concerned about covering up a scandal or avoiding a lawsuit than protecting other children from becoming victims of a known pedophile.
Under Wilcoxsons legislation, current or former employers of the applicant would be authorized to disclose all documents in the personnel record which confirm and substantiate incidences of child abuse, child molestation or pornography.
This bill would protect a school district from being sued for releasing this kind of information. The bottom line is weve got to do everything possible to enable the districts to hire the best teachers possible, who help, not harm the students entrusted to their care, said Wilcoxson.
The measure also would require public schools to have a moment of silence each day. That part of the bill was written by Senator Glenn Coffee.
I think parents across the state are frightened by some of the things weve seen happening in our communities and our schools. They want our children to be able to pray for a moment in school if they wish. But we also know many schools are afraid to set aside time for prayer or meditation for fear of lawsuits. We want to set the record straight so that they know they can have a moment of silence, during which time a student is free to think, meditate or pray, explained Coffee, R-OKC.
SB 1471 passed 34 to 8, and now moves to the House of Representatives.
Contact info
Senate Communications Division - (405) 521-5605