OKLAHOMA CITY, OK – Sen. Micheal Bergstrom, R-Adair, visited Will Rogers Elementary School in Vinita on Friday, March 1 in celebration of Read Across America Day. 
"Reading is crucial to student learning and is proven to be tied to future success for children, so this event is always a fun one to celebrate," said Bergstrom.  "I enjoyed visiting with all the great students at Will Rogers Elementary and want to thank them for their invitation to join them on Friday to read "Great Day for Up" by Dr. Seuss while I was visiting their classroom." 
Each year schools, bookstores, libraries, hospitals and organizations partner with Read Across America events and activities in communities across the country. Children's book author Dr. Seuss, also known as Theodor Seuss Geisel, died in 1991 before Read Across America Day was created but his career and works are honored each year on the day.  Many schools and libraries celebrate Read Across America Day with universally-recognized objects from Dr. Seuss' works, including green eggs and ham.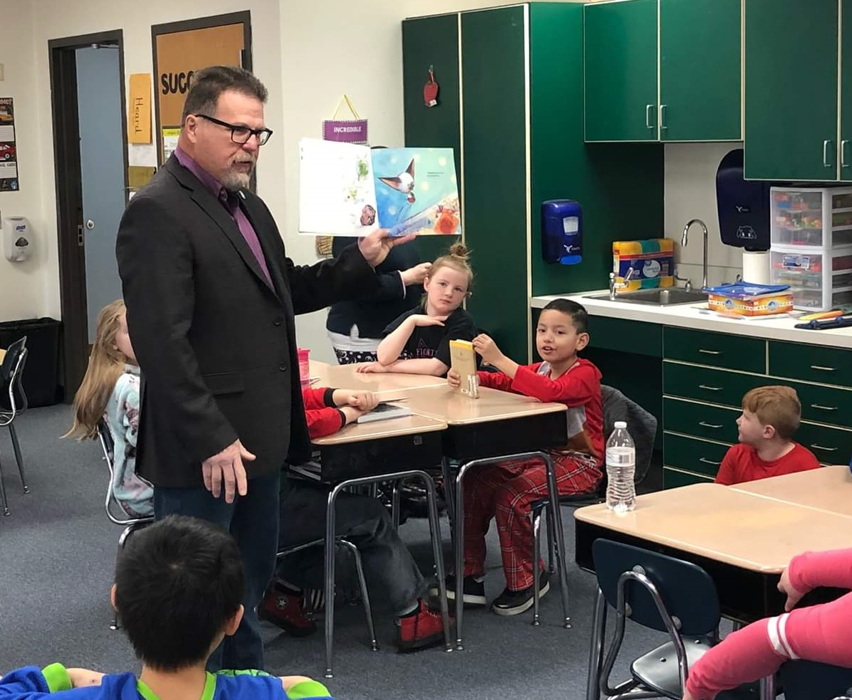 Senator Micheal Bergstrom, R-Adair, joins students from Will Rogers Elementary in Vinita in celebration of Read Across America Day on Friday, March 1.