OKLAHOMA CITY – Sen. Micheal Bergstrom joined members of the Vinita City Council and city officials on August 21for the presentation of an honorary grant check for $25,000 from AARP Oklahoma earmarked for improvements to downtown Vinita.
The grant, which is part of AARP Oklahoma's Community Challenge program, will fund a revitalization project slated to significantly improve the safety and walkability of downtown Vinita and the community's historic Route 66 Main Street area. 
Vinita was selected as an AARP Community Challenge grant recipient for its innovative approach to revitalize the main corridor in downtown Vinita. The grant will allow for the repurposing of an alley near Wilson Street, which will eliminate vehicle traffic and facilitate a safe walk and bike pathway in a high traffic area, as well as for the installation of permanent ADA compliant benches and tables. Lighting enhancements and new art for the public spaces will also add to the improvements.
"This revitalization project is a significant step towards continuing to strengthen the sense of community for residents and visitors alike," said Bergstrom, R-Adair.  "These improvements will provide safer public spaces to be enjoyed by all, while highlighting Vinita's historical landmarks and assets along the Route 66 corridor."
The project is already underway and is anticipated to be completed later this year.
Please contact Sen. Micheal Bergstrom at 405-521-5561 or bergstrom@oksenate.gov for more information.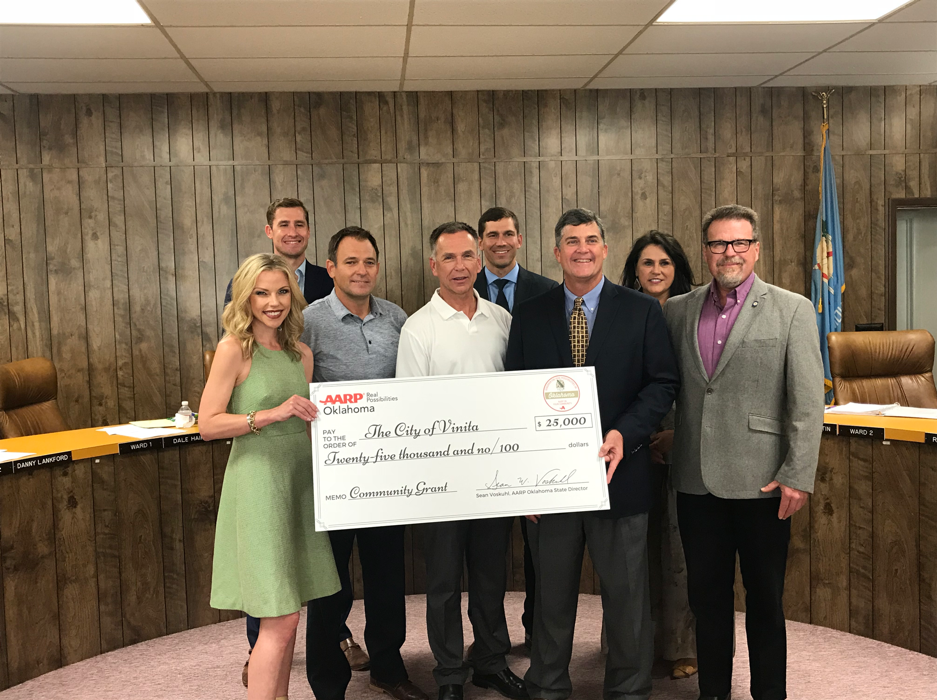 Sen. Micheal Bergstrom joins Vinita officials to receive $25,000 grant from AARP Oklahoma.  Pictured from left to right on the front row are:  Joy McGill, Associate State Director AARP Oklahoma; Brian Prince, Vinita City Clerk; Ronnie Starks, Mayor of Vinita; Sean Voskuhl, State Director AARP Oklahoma; and Senator Micheal Bergstrom.   Pictured from left to right on back row are:  Jed Cochran, Senator Inhofe's Office; Jeffery Underwood, Senator Lankford's Office; and Debbie Dooley; Congressman Mullin's Office.