Oklahoma City, Oklahoma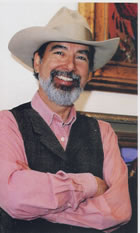 Shamans, healers, brave warriors and earth mothers: these are the focus and purpose of painting for Mike Larsen. His painterly style is very expressive and the attire of his subjects is always historically accurate. Larsen's paintings achieve his intent of conveying emotion, invoking feeling, and creating hope. Mike embarked on his painting career at the age of 19 with landscapes, but the creation of these distant views has long since given way to the exploration of powerful figures with distinctive and mythical messages for men and women of all races.
Larsen was born in Dallas, Texas of a Chickasaw father and Anglo mother in 1944. He grew up on the plains of Oklahoma and Texas, with his mother and stepfather and began painting in earnest at Amarillo Junior College. Thereafter, he continued his art education at the University of Houston. In 1991 Larsen's mural "Flight of Spirit", a tribute to five Native American ballet dancers, was unveiled as a permanent fixture in the Oklahoma State Capitol. CNN network featured Larsen, his mural and the ballerinas honored in a report at the same time.
Surrounded always by his wife, Martha, and their three children, Mike continues to create paintings that mix mystery and reality in magnified bodies that transfix viewers with passionate feelings. His paintings radiate the essence of spirituality and creativity, always reflecting his dedication to the subject as well as to the method of the medium.