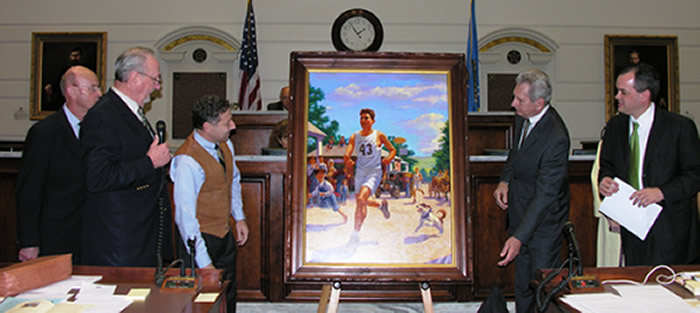 The unveiling of Andy Payne painting in the Senate Chamber Tuesday.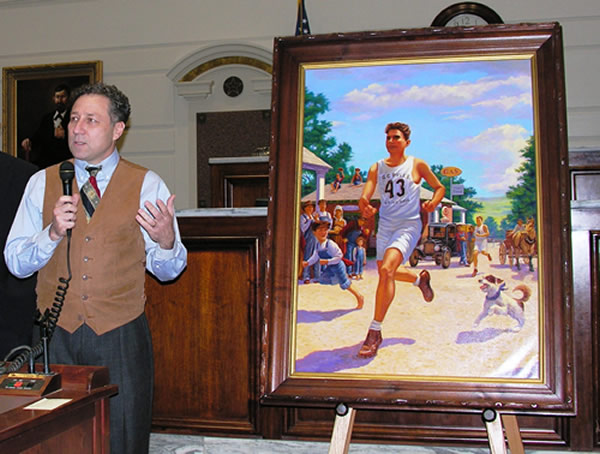 Artist Christopher Nick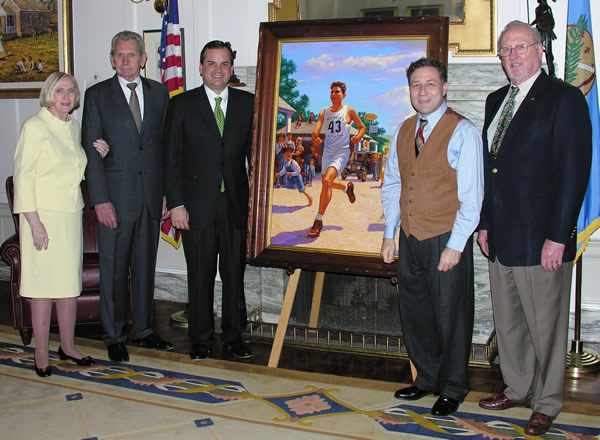 The Andy Payne Painting
The Senate unveiled another original work of art commissioned by the Oklahoma State Senate Historical Preservation Fund Tuesday. The painting, by Oklahoma City artist Christopher Nick, is of Oklahoman Andy Payne who was the winner of the 1928 Trans-Continental Foot Race as well as the Clerk of the Oklahoma Supreme Court for 38 years retiring in 1973.

"I knew Mr. Payne personally and knew we had to get his story onto a canvas for others to enjoy," said Charles Ford, President of the Preservation Fund. "Not only was he a tremendous athlete, he also had a great head for business and law, which was evident in his success over the years."

After high school, Payne moved to California looking for work, but jobs were scarce. Fate intervened when the former high school track athlete saw an ad in the sports pages announcing C.C. Pyle's International Trans-Continental Foot Race. With his Dad's help, he raised the entry fee of $125, and returned to California in February 1928 to attend the training camp at Ascot Parkway in Los Angeles.
The 3,422 mile race from California to New York began on March 4, 1928 and took 84 days to complete. The 20-year-old Payne won the race and the $25,000 prize.

Payne returned to Oklahoma where he paid off the mortgage on the family farm, built his parents a new home, and bought himself some land and a new car. He married his wife, Vivian, in 1929.

In 1934, with no job and the country caught in the Depression, Andy ran for clerk of the Oklahoma State Supreme Court and won. He continued to be re-elected, leaving only for two year to serve in the Army during WWII. After turning 40, he attended law school at night and earned a law degree.

His real interest was land acquisition especially mineral production. He held onto the land and minerals he had bought with his winnings and continued to buy more. Coal, gas and oil were discovered on his land something he planned for having studying geology in order to make better land purchasing decisions.

The painting was a gift of the Andy Payne family. Senator Sean Burrage, who represents Payne's hometown of Chelsea, made the suggestion to Ford to contact the Payne family about the possibility of commissioning the painting.

"What a great example Mr. Payne is to each of us of how hard work and determination can pay off. His story is especially pertinent today when so many are facing such hard economic times like he and so many others did during the Great Depression, but he didn't let anything hold him back," said Burrage, D-Claremore. "He was a great Oklahoman, and I'm glad that the story of this Rogers County native will forever grace the walls of the State Capitol."

This and other art commissioned by the Oklahoma State Senate Historical Preservation Fund, Inc. can be found on the Internet at www.oksenate.gov.


Contact info
Sen. Burrage's Office - 405-521-5555