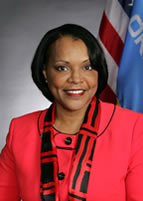 Sen. Constance N. Johnson
Oklahoma Legislative Black Caucus Chair, State Senator Constance N. Johnson (D - Oklahoma County) and member, Representative-Elect Kevin L. Matthews (D-Tulsa), issued a statement today welcoming Rev. Jesse Jackson of the Rainbow Push Coalition to Stillwater, Oklahoma.

Rev. Jackson committed to lending the resources of Rainbow Push to Oklahoma's effort to raise public awareness about the social and criminal justice issues that exist in Oklahoma. He is returning to appear as the key note speaker at the Social Justice Advocacy Forum which is being held on Thursday, August 23, 2012, from 5:30-7:30pm at the Mt. Zion Baptist Church in Stillwater.

"We are delighted that Rev. Jackson is once again coming to share his experience and passion regarding social justice and activism. His unique perspectives will aid greatly in the forum's goal of being an informative, educational and empowering activity for citizens in Stillwater, Payne County and surrounding communities," said Johnson

The Social Justice Advocacy Forum is the second of a series of forums that will take place at regular intervals in both rural and urban areas around the state. It is a collaborative effort between several state and national organizations dedicated to generating dialog, discussion and education about systemic causes of disenfranchisement and mass incarceration.

Sen. Johnson stated, "As caucus members, we are happy to collaborate with the Oklahoma State Conference NAACP, The Advocacy Council, the University of Oklahoma Black Law Student Association, faith leaders and others in shaping this important dialog. The forum will include updates from elected officials, community-based organizations and advocates about present policies and proposals."

Representative-Elect Matthews, newly elected to House District 73 in North Tulsa, stated "while communities of color and poor people face many challenges in our society today, and it is tempting to explore those with each other and look to each other for the solutions we so desperately need, we can't begin that process until all of our people are educated in the political process and organized around voting and advocacy. The importance of voting will be a recurring theme of our conversations in Stillwater."

Bishop Grant, a spokesperson for Rev. Jackson's office shared that "Rev. Jackson's mission and that of Rainbow Push has always been to protect, defend, and gain civil rights by leveling the economic and educational playing fields, while promoting peace and justice. The conditions we observed on our first visit to Oklahoma stirred our passion to help a hurting community lay hold of justice. We are dedicated to keeping a watchful eye on Oklahoma and stand ready to lend the support needed to open up space for peaceful discussion of these complex dialogs about situations that effect all of us."

Oklahoma State Conference NAACP President Anthony R. Douglas expressed that "our organization is dedicated to the long term process of achieving social justice and healing within our communities. We believe these forums are a great first step, and we are hopeful about the outcome of these forums."

The public is cordially invited to attend Thursday, August 23, 2012, from 5:30-7:30pm at the Mt. Zion Baptist Church. The church is located at 902 S Knoblock Street, Stillwater, OK 74074.
Contact info
Sen. Johnson: (405) 521-5531